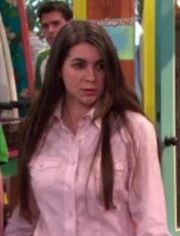 Gretchen appeared in Epic Wingman. She is a parody of Bella from Twilight, because she entered the surf shop with a guy who said his name was Robert Patterson. They were hired by Piper to make Kelly go and fight for Piper to be in the spelling bee.
Ad blocker interference detected!
Wikia is a free-to-use site that makes money from advertising. We have a modified experience for viewers using ad blockers

Wikia is not accessible if you've made further modifications. Remove the custom ad blocker rule(s) and the page will load as expected.